- High quality industrial equipment, steel table, epoxy paint
- 2 fixed wheels, 2 rotating wheels with brake, lifting height up to 1618mm
Manual table: Pedal controlled lifting table, proportional lowering by joystick located at the top of the push bar.
Semi-electric table: 700W engine, lifting by 12V / 75Ah electric battery
In accordance with Directive 2006/42 / EC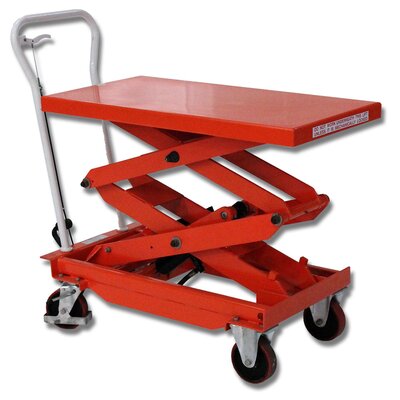 Select a row from the table below, then click the add to quote button
Download CAD

Download CAD by choosing the desired product from the table above and the format from the menu below. Click "Get CAD" and after the load reaches 100% you can click on the download icon to download it. Please note that CAD drawings are only available if the icon at the right side of the table above is colored and not grayed out.
Model
Capacity (Kg)
Table dimension L x l
(mm)
Lifting height min/max
(mm)

Drawbar height (mm)

Wheels diameter
(mm)

External dimensions L x l (mm)

Lifting/lowering time (s)
Weight (Kg)
Manual
BS15
150
700x450
265/755
1000
100
450x950
41
BS25
250
830x500
330/910
1100
125
500x1010
78
BS50
500
1010x520
435/1000
1130
150
520x1185
118
BS75
750
1010x520
442/1000
1130
150
520x1260
120
BS100
1000
1010x520
445/950
1130
150
520x1260
137
BS30D
300
1010x520
435/1585
1130
150
520x1260
150
BS50D
500
1010x520
440/1575
1130
150
520x1260
168
BS80D
800
1010x520
470/1410
1130
150
520x1275
165
BS50LA
500
1525x620
400/1100
1130
150
620x1780
175
BS50LB
500
1200x800
370/1190
1030
160
800x1390
160
BS100L
1000
1200x800
425/1225
1080
200
800x1390
163
Partially-electric
ES30
300
1010x520
450/950
1185
520x1185
15/06
140
ES50
500
1010x520
450/950
1185
520x1185
15/06
148
ES75
750
1010x520
480/950
1185
520x1260
15/06
154
ES100
1000
1010x520
495/1600
1185
520x1260
15/06
169
ES30D
300
1010x520
495/1618
1185
520x1260
15/06
183
ES50D
500
1010x520
510/1460
1185
520x1260
15/06
198
ES80D
800
1010x520
440/1150
1185
520x1260
15/06
176
ES50LA
500
1525x620
430/1220
1185
620x1780
15/06
215
ES50LB
500
1200x800
430/1220
1185
1200x800
15/06
220
ES100L
1000
1200x800
130/1220
1185
1200x800
15/06
225