Electric chain hoist with hook suspension

General: The KITO ER2 Electric Chain Hoists are durable, safe and easy to use hoists. It has a top hook or overhead mounting suspension, aluminium die-cast body, electromagnetic brake and a canvas chain container.
It lifts from 125 kg up to 5 tons.

Standard configuration:
400 V/50 Hz
Contactor control for single speed
CH-Meter: operating hours /number of starts
Ergonomic push button control
Upper-lower limit switch
Nickel-plated load chain class grade 80 (DAT) in accordance with Norm EN 818-7
Thermal protector
Carbon friction clutch

Options:
500 V/Contactor control
230 V/50 Hz/60 Hz, 3 phase
Rubber bumpers for motorized trolleys
Additional mechanical brake
Electrical overload limiter
Acoustic overload signal
Radio remote control
Variable speed control
Level limit switch
Steel chain container
Trolley versions: motorized, geared and plain
Note: Can also be delivered with infinitely variable speed control, programmable level limits and cylinder control.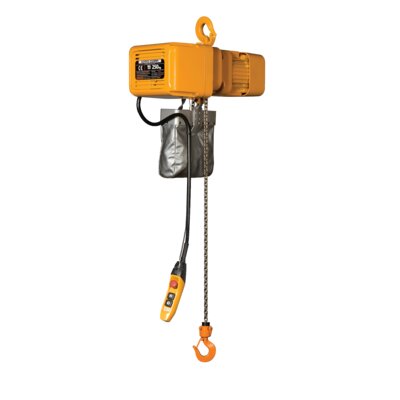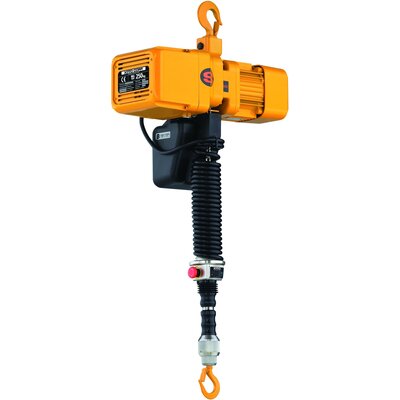 ER2 cylinder control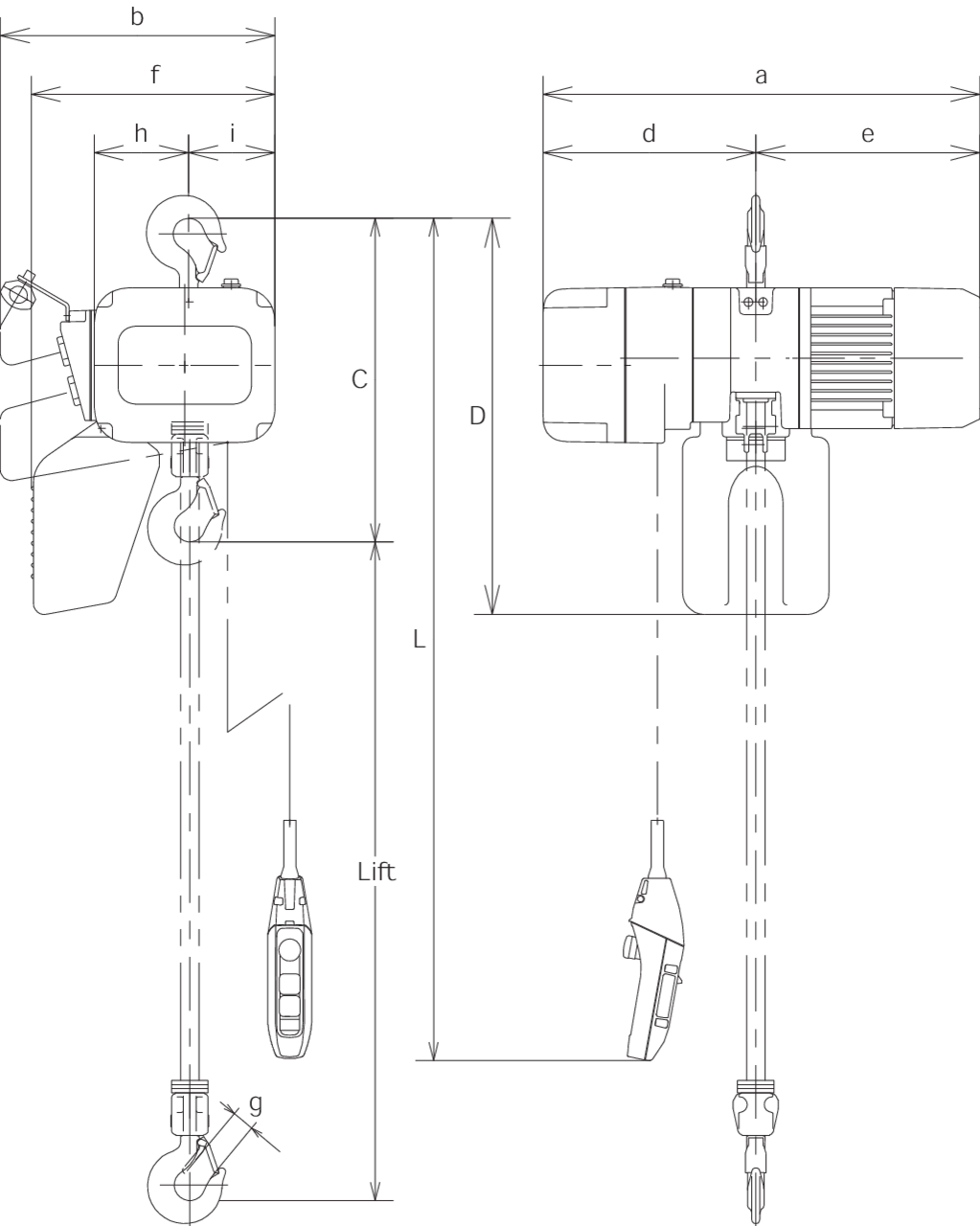 Select a row from the table below, then click the add to quote button
Download CAD

Download CAD by choosing the desired product from the table above and the format from the menu below. Click "Get CAD" and after the load reaches 100% you can click on the download icon to download it. Please note that CAD drawings are only available if the icon at the right side of the table above is colored and not grayed out.
Dimensions
| | | | | | | | | | | | |
| --- | --- | --- | --- | --- | --- | --- | --- | --- | --- | --- | --- |
| WLL | Produkt | Min. headroom C | D | a | b | d | e | f | g | h | i |
| tons | code | mm | mm | mm | mm | mm | mm | mm | mm | mm | mm |
| 0,125 | ER2-001H | 350 | 430 | 478 | 321 | 219 | 259 | 260 | 27 | 99 | 93 |
| 0,250 | ER2-003S | 350 | 430 | 478 | 321 | 219 | 259 | 260 | 27 | 99 | 93 |
| 0,250 | ER2-003H | 370 | 490 | 510 | 348 | 242 | 268 | 283 | 27 | 113 | 106 |
| 0,500 | ER2-005L | 370 | 490 | 513 | 348 | 242 | 271 | 283 | 27 | 113 | 106 |
| 0,500 | ER2-005S | 370 | 490 | 510 | 348 | 242 | 268 | 283 | 27 | 113 | 106 |
| 1 | ER2-010L | 430 | 550 | 589 | 376 | 291 | 298 | 335 | 31 | 129 | 118 |
| 1 | ER2-010S | 430 | 550 | 598 | 376 | 291 | 307 | 335 | 31 | 129 | 118 |
| 1,6 | ER2-016S | 510 | 630 | 646 | 427 | 308 | 338 | 384,5 | 34 | 160,5 | 137,5 |
| 2 | ER2-020L | 575 | 630 | 646 | 427 | 308 | 338 | 384,5 | 39 | 160,5 | 137,5 |
| 2 | ER2-020S | 590 | 630 | 703 | 427 | 347 | 356 | 384,5 | 39 | 160,5 | 137,5 |
| 2,5 | ER2-025S | 625 | 840 | 736 | 445 | 337 | 399 | 437,5 | 39 | 173,5 | 142,5 |
| 3,2 | ER2-032S | 785 | 920 | 703 | 427 | 347 | 356 | 397 | 44 | 216 | 82 |
| 5 | ER2-050S | 850 | 920 | 736 | 445 | 337 | 399 | 439 | 47 | 231,5 | 84,5 |