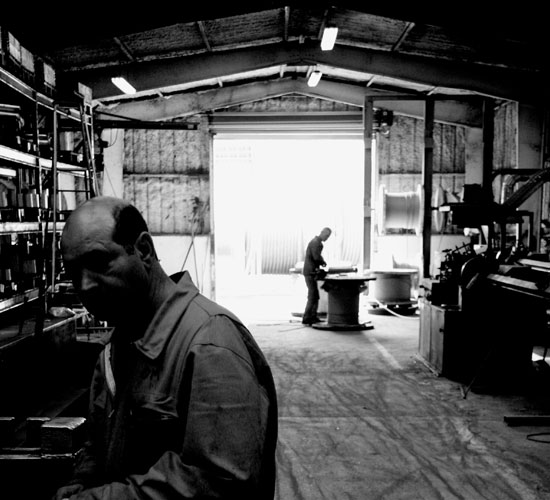 A NATIONAL NETWORK TRACTION LEVAGE
Traction Levage is a French company specialized in the design, manufacture and distribution of lifting and handling equipment for various industries. Founded in 1967 by Mr MEDAWAR, the company has become a leader in its field, offering a wide range of lifting products such as wire ropes, chains, textile slings, hoists, winches and lifting equipment, as well as customized solutions for specific applications (Periodic General Inspection, Magnetic Rope Testing, etc.)
In 1979, under the impetus of its new manager, Marcel CAUSAN, Traction Levage equipped itself with a 6,000-ton sleeving press to meet the demand of the offshore market. This press is still the largest of its kind in Europe. This period marks the beginning of a long and always relevant collaboration with major companies such as ARCELOR, BOUYGUES, EDF, DCN, SNCF...
From 1983, the company expanded its activity with the opening of regional production workshops to meet the growing demand for lifting products:
In 1983: HAGUENAU (67)
In 1985: GENAS (since transferred to SAINT LAURENT DE MURE) (69)
In 1985: AULNAY SOUS-BOIS (since transferred to LE BLANC MESNIL) (93)
In 2004: SAINTE HERBLAIN (since transferred to LES SORINIÈRES) (44)
In 2013: CANEJAN (in 2021, the agencies of CANEJAN and LES SORINIÈRES merged) (44)
THE ACQUISITION OF TRACTION LEVAGE
In 1990, Traction Levage was acquired by TREFILEUROPE, a subsidiary of the ARCELOR group, which made it its distributor for the sale of wire ropes.
In July 1999 the Aster branch of ARCELOR (Unimétal, SMR, TREFILEUROPE and its Subsidiaries) is sold to the group ISPAT INTERNATIONAL former name of the group MITTAL STEEL which in June 2006 after the purchase of ARCELOR by Lakshmi MITTAL becomes today the world leading steel manufacturer group known : ARCELOR MITTAL.
In October 2016, Traction Levage joined the Lifting Solutions Group which is part of the Axel Johnson International group, the European leader in lifting and lashing with a turnover of over €370M.
THE LIFTING SOLUTIONS GROUP
Traction Levage belong to the business unit Lifting Solutions within Axel Johnson International. The business group is a global player in lifting equipment, steel wire rope, height safety and services. It operates as a group of companies that supply wire rope, hoists, overhead cranes and other lifting products together with connected services.
Lifting solutions has developed rapidly. Having grown from 0 to 420 MEUR in annual sales since 2005, when the first acquisition was made. Today Lifting Solutions consist of 24 market-leading companies with +100 service centers world-wide. Together, the companies serve clients in a wide range of industries, including off­shore, renewable energy, shipping, automotive manufacturing, ports, fish farming, engineering, pulp and paper, mining, and steel.
Even though Lifting Solutions has a short history the companies within the group have a long history in the business and are well known and established in their local markets. Several have even been around for more than a century. Together, they possess a vast resource of specialist knowledge in lifting and steel wire rope.
To read more about the companies in Lifting Solutions, visit https://liftingsolutionsgroup.com/
AXEL JOHNSON INTERNATIONAL
Traction Levage is part of Axel Johnson International, a global industrial group that acquires and develops companies in strategically selected niche markets, primarily technical components and industrial process solutions.
The group is an active and long-term owner whose mission is to drive business development and growth. It builds and develops groups of companies with shared strategic objectives, stimulating joint initiatives and knowledge sharing. Axel Johnson International has six business groups: Driveline Solutions, Fluid Handling Solutions, Industrial Automation, Lifting Solutions, Power Transmission Solutions and Transport Solutions. Axel Johnson International has an entrepreneurial culture where decentralised and committed leadership enables quick decisions. The group has four focus areas: digitalisation, service, sustainability and people development.
Axel Johnson International is headquartered in Stockholm, Sweden. The group comprises 200 companies in 34 countries. Axel Johnson International is part of the Swedish family-owned corporate group Axel Johnson.
WHY CHOOSE TRACTION LEVAGE FOR YOUR LIFTING PRODUCTS?
One of the main strengths of Traction Levage is its ability to provide customized solutions to meet the specific needs of its customers. The company has experienced sales teams, present throughout France working in close collaboration with customers to understand their requirements and offer equipment that satisfy their specific needs. This level of customization allows Traction Levage to offer suitable products, thus increasing the productivity of its customers.
Traction Levage also distributes a wide range of standard products for various industries including construction, ports, logistics... The products distributed by Traction Levage to its customers are selected for their durability and reliability and are suitable for internal and external use. Many products are also designed to be lightweight and easy to use, while being very effective and safe.
Another key aspect of the success of Traction Levage is its commitment to safety. The company emphasizes safety in all its products, and all its equipment is designed to meet the highest quality standards and ensure the safety of operators and staff.
While being concerned about its economic development, Traction Levage does not design it without social progress and respect for the environment.
Traction Levage is a renowned French company, specialized in lifting and handling equipment. With a focus on personalization, durability and safety, Traction Levage offers its customers efficient and reliable products that help increase productivity, while controlling costs and respecting a rigorous environmental and societal policy.
Located near Marseille, Lyon, Strasbourg, Paris, Nantes and Bordeaux, we are at your disposal.